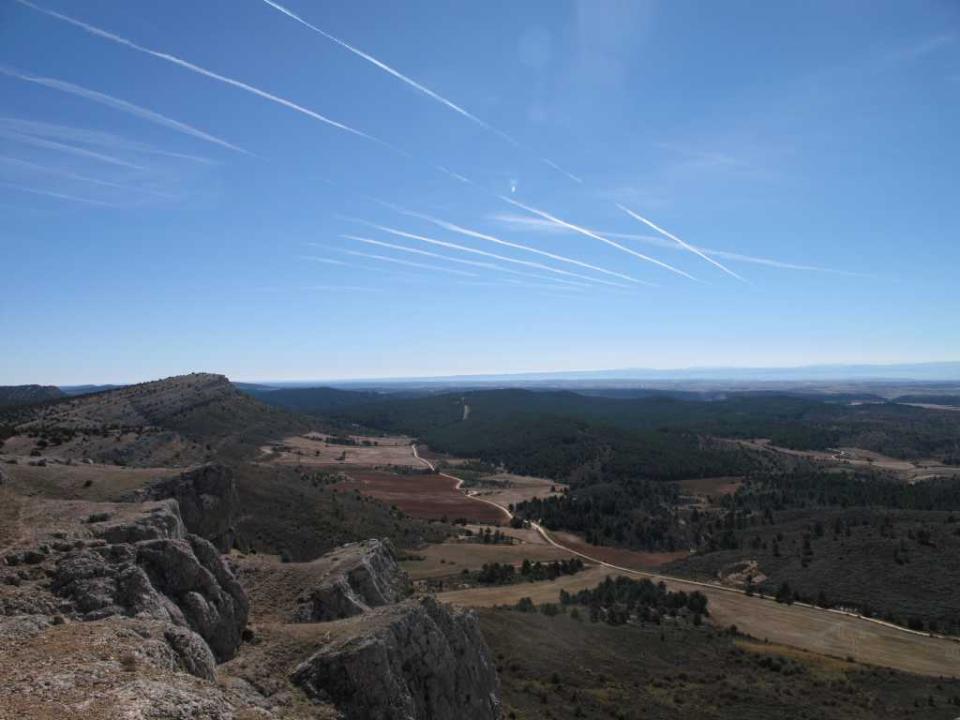 How to get there
The N-234, from Soria to Burgos, before the end of the houses in the town of Pinar Hontoria towards Burgos, take a track on the left, south, running 450m, to continue for another track, some 1,200 m in a westerly direction, crossing the Wolf River and continue on, some 3,000 m along a road, still heading west, which rises to the hill where it is located the fort.
Situation and location
Is located at the end of Navas del Pinar, on top of a large hill crowned by Pico Navas (1.351m, the highest peak of the Lobos River Canyon), located in the Sierra de Hontoria, featuring sharp cut by the sor-west towards the valley of Costalago, and the north, Nava Brook, a tributary of Wolf River.
Settlement features
The fort has a large visual control, taking a broad platform of about 1.8 hectares, which is inclined from its most prominent area, Navas Peak to the southeast,
Defense system
The east side, the most unprotected of course, was reinforced by a wall, about 96 m long, cut from the south reached the North, which his remains can be seen reflected in a small , or ALOM continues. In turn, this town was protected with a powerful wall, about 98m long, at the top (west side), isolating it from the nearest part of the Pico Navas, since this area offers great disruption erosion of limestone, which when folded has created large vertical rocks and accumulations of large areas with sharp "thorns" stone, which made it difficult occupation. It is precisely in this area, bounded by the two alignments walled, where there are abundant remains of Iron Age pottery, an old time Iron Age (VI-IV century BC).
indicates the existence of possible funds in circular huts, about 6mm in diameter, which is hard to take when there has been no archaeological excavations.
Contacts and time
Access is free but the access road is not signposted. The fort has been provided with an explanatory panel of general content about castro and his cattle wealth.
Basic Bibliography
Pérez, F. (1982): Archaeology Burgalesa. Hon. Diputación Provincial de Burgos, Burgos. Benito, J. P., Tabernero, C., Sanz Aragones, A., Guillen Lopez, R. (2006): Pelendones. Celtic hillforts in the mountains north of Soria. Soria
---