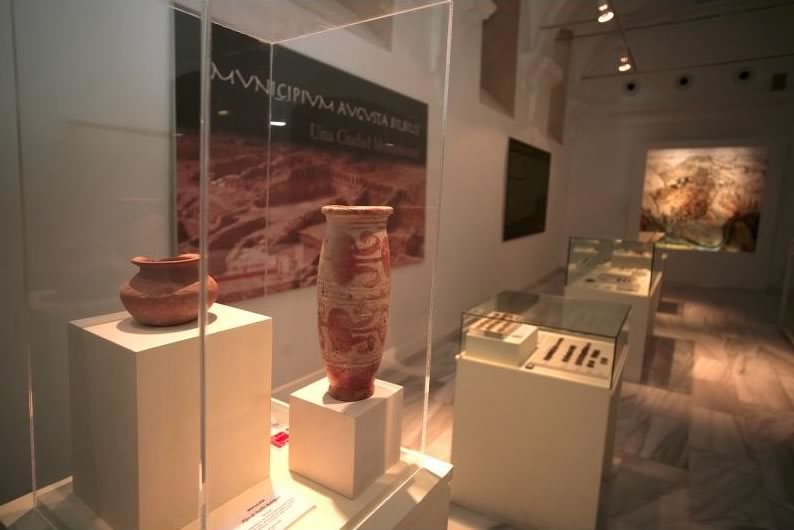 It is a new creation inaugurated in 2007. It was located in the old Convent of the Carmelitas. Its objective is to keep and to show the ruins coming from the archaeological works that will be realized in Calatayud and in its region, from the Prehistory to the modern world.
The third floor is dedicated to the contemporary art showing the legado Torcal but in its lower floors it is showed a part of the archaeological richness of the zone.
The most of the archaeological exposition is based on the Roman city of Bilbilis, offering a path through different materials to approach the visitor to the knowledge of several aspects of the daily life of the inhabitants of this old Roman city.
In this exhibition path of Bilbilis it is necessary to highlight the collection of Roman wall painting, recently restored as the pictorial decoration of the house of La Fortuna, the sculptural collection of portraits of the Julio-Claudian family, found in the theatre zone (recently was enriched through the discovery of one of Augusto "capite velato"; as well as the Numismatic collection and the ceramic bitches.
Contact and visiting hours
His Honour, City Council of Calatayud
Museo de Calatayud, Plaza Santa Teresa,
Tel: (+34) 976897816
Visiting hours:
From Tuesday to Saturday, in the morning from 11ª.m. to 1p.m, in the afternoon from 6p.m. to 8p.m.
On Sundays opens from 11a.m. to 1p.m.
---